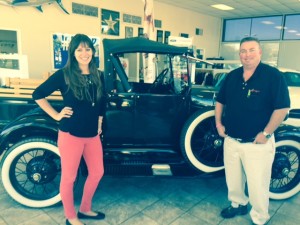 Beginning November 1st and continuing to Christmas Eve, December 24th, Vreeland Ford will conduct a "Fill the Truck" food drive to benefit the food program operated by local non-profit organization, People Helping People. Vreeland is displaying its 1928 Model "A" Pick-up Truck at the dealership at 340 E. Highway 246 in Buellton. Dan and Jim Vreeland are asking community members to come by and check out this beautifully restored and historic vehicle and make a food donation to those in need at the holidays. Canned and boxed foods are needed as well as turkeys for Thanksgiving.
Dan Vreeland said that he and his partners Jim Vreeland and Michael Gamboian wanted to help those less fortunate at the holidays. "We know that many people really struggle at this time. We thought that encouraging folks to donate food was a good way to help."
People Helping People (PHP) operates a Food Program year round in the Santa Ynez Valley and Los Alamos to help individuals and families reduce food insecurity which is defined as having a period of time each month when you do not know where your next meal will come from. PHP delivers more than 240,000 pounds of food each year to 350 income qualified families.
According to Justin Wilkins, PHP's Food Program Director, the holidays are particularly difficult for many individuals and families when there are expectations for family gatherings and meals. Wilkins said, "can you imagine when you are already struggling to make ends meet each month, how much additional stress there is in trying to fulfill the expectations for holiday meals."
You can help PHP assist those in need of food at the holidays by filling the Vreeland Model "A" with non-perishable food or a turkey or by making a cash donation to PHP at P.O. Box 1478 Solvang, CA 93464. For more information about "The Fill the Truck" campaign or the PHP Food Program, contact Justin at 686-0295 or email: justin@syvphp.org .
PHP is a multi-program agency working to improve the lives of individuals and families in the Santa Ynez Valley, Los Alamos, and surrounding communities. For more information about PHP programs and services, finances, and staff visit: www.syvphp.org.