Every Thursday, we distribute food from 12 noon to 4 p.m. We always have bags set aside anticipating our final group of clients. They arrive minutes before we wrap-up, a group of women, snuggly seated in two cars. They are dressed in their sunhats, flannels, and boots, covered in dust. Their tired eyes are still grateful – they arrived just in time. 
It is not lost on us, that the same people harvesting our region's most coveted commodity are lining up for our weekly food distribution.
"We spend our days in the vineyards, harvesting the grapes. Before we go home, we pick up food from People Helping People to take to our families. We are all moms and we help each other care for our families and strive for a better life."- vineyard worker and PHP client
An Outdoor Food Pantry
The need for our client base to access healthy food every day, at all hours has discernably increased. Our current modest outdoor pantry is tired and ineffective in storing an adequate supply of fresh produce and loaves of bread. The newly designed pantry is inspired by the open-air farm stands so treasured throughout our region – something of which our community can feel proud and a place where our neighbors can feel dignified while selecting from our local agricultural bounty and fresh rescue items from artisan bakeries and grocery stores – on any day, at any time.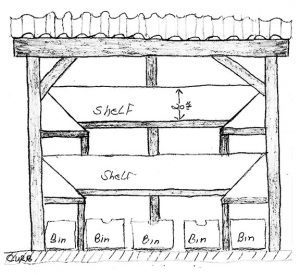 The Need Today
Our Santa Barbara County economy significantly depends upon the agriculture, tourism, and hospitality industries, each interconnected to the other – and each devastated by the COVID-19 pandemic. Our fellow neighbors working in our nearby agricultural fields, restaurants, hotels, wineries, and breweries, have been disproportionately impacted by the virus and the economic shutdown.
Our food distribution program's costs have increased over 400% from $15,558.94 in our prior year to $66,634.04 as of April 30, 2021. Further, we have expanded our food distribution in Solvang and Los Alamos from bi-weekly to weekly, providing 300 grocery bags to local families and seniors every Thursday.
Our Mission
People Helping People (PHP) is the primary provider of human and social services in mid-Santa Barbara County. Incorporated in 1992, PHP is "dedicated to improving the lives of all men, women, and children in the Santa Ynez Valley, Los Alamos Valley and adjacent communities by addressing emergency and basic needs, furnishing comprehensive integrated family and support services, and acting as a catalyst for positive community change."
Beyond the Food
PHP has grown from a single program, food and emergency services, into a unique multi-program organization that has developed a comprehensive system of care. Services for infants, children, and adults are integrated into a "one-stop" shop with multiple access points (Family Resource Centers) located throughout the Santa Ynez and Los Alamos Valleys at neighborhood schools. This system minimizes costs, especially overhead, and maximizes getting help to those who need it.
Major programs include Food, Homelessness Prevention, Healthcare Access, Children's and Adult (Seniors) Dental Funds, Mental Health Wellness Counseling, Los Alamos After-School Youth Program, Youth (Drug-Free Prevention) Coalition, High School Student Mentoring, Life Skills Training (Junior High), Family Strengthening, Domestic Violence Prevention, Child Abuse Prevention, Parent Education, Advocacy, and Christmas Fulfill-A-Wish.
PHP operates under the direction of a 21-member community-based Board of Directors. PHP's current annual operating budget is $2.1 million and PHP currently employs 22 full and part-time staff.