15th Annual "Dine and Donate" Scheduled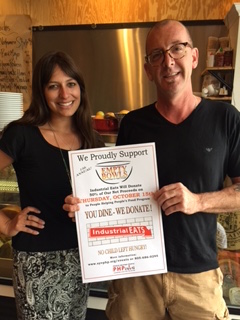 On Thursday, October 15th People Helping People (PHP) will conduct its 15th Annual Dine and Donate program to help fill "Empty Bowls." The Dine and Donate event joins food and beverage purveyors and their customers in support PHP's food program. That food program delivers more than 260,000 pounds of food per year to feed nearly 1,400 individuals in the Santa Ynez and Los Alamos Valleys.
Santa Ynez Valley restaurants and winery tasting rooms are being asked to donate a portion of their gross proceeds from breakfast, lunch, dinner, or tasting on Thursday, October 15th to People Helping People's (PHP) Food Program. October 15th is World Food Day, a day set aside to recognize that there are people throughout the world and even in our home town that do not have enough to eat.
"I know that it seems inconceivable that in our beautiful region children and their parents go to sleep hungry," said Dean Palius, C.E.O. at PHP. "Yet, that is in fact the case. Many of our neighbors suffer from food insecurity, 'not knowing at some time each month, where their next meal will come from.' Folks that come to PHP to request food are a growing number of seniors living on small fixed incomes and those working in the hospitality and agricultural industries struggling to make ends meet for a family of four on a monthly income of $3,000 per month or less. Often at the end of each month, these people must choose between paying the rent and utilities and buying food for their children."
According to Palius, last year, 22 restaurants and wine tasting rooms participated in the Dine and Donate program. This year 23 businesses have signed on to participate including A-RU Japanese Restaurant, Ballard Inn & Restaurant, Carhartt Vineyard, CHOMP, Coffee Cabin, Figueroa Mountain Brewing Company, Fresco Valley Café, Industrial Eats, Kate's Yogurt, Longhorn Coffee Shop, Longoria Wines, Los Olivos Café & Wine Merchant, Pattibakes, Solvang Restaurant, Starting Gate Restaurant at the Marriott, The Greenhouse Café, The Hitching Post II, Santé Wine Bar & Lounge, Tercero Wines, The Vineyard House, Tower Pizza, Trattoria Grappolo, Viking Garden.
Erica Valdes, PHP's Development Associate, said that this year they are hoping to increase much needed funding for the food program from the Dine and Donate and the other components of PHP's "Empty Bowls" fundraising campaign in October. Valdes said that PHP also raises funds through a direct mail appeal sent to 4,000 homes. The mail piece lists the restaurants participating in the Dine and Donate and includes raffle tickets that can be purchased to participate in a drawing for a top prize valued at $1,000.
Valdes said that the mailer will be arriving at homes the first week of October.
To obtain more information regarding PHP's Empty Bowls Campaign to End Hunger, find an updated list of Dine and Donate participants, or purchase raffle tickets, visit www.syvphp.org/events/empty-bowls.
If you own or manage a business that would like to participate in Dine and Donate, contact Erica Valdes at 686-0295 or email Erica@syvphp.org. To read more about PHP and the food and other programs: www.syvphp.org or call 686-0295.