Event Will Feature Professional Player And Ralph Lauren Spokesperson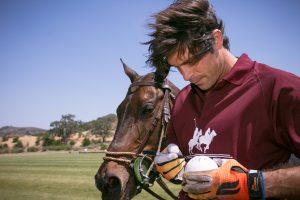 Joel Baker, Santa Ynez Valley Polo Classic Player Coordinator, announced that Ignacio "Nacho" Figueras will be returning this year to play as one of six high goal professional players to be featured in the event's main match on June 24th. Baker said that, "Figueras made quite a splash with his fiery brand of polo and his "model" good looks. We are pleased that he could return for this important charity event."
Figueras, born March 4, 1977, is an Argentine polo player and has been ranked as one of the top 100 polo players in the world. Playing polo since the age of nine, he plays in Argentina and in the U.S. as part of the Black Watch Polo Team. He may be best known as the face of Ralph Lauren's Black Label. Despite this success, he has reported that polo remains his passion. He has said that his mission in life "is to bring polo to the world a little more." So, he is working hard to raise the profile of the sport of polo.
The Polo Classic will be held on Saturday, June 24, 2017, at Piocho Ranch at Happy Canyon Vineyard in Santa Ynez. The event is a benefit for Santa Ynez Valley People Helping People (PHP). The Classic will include two matches and four teams featuring several of the highest rated players in the world as well as local Santa Ynez Valley polo celebrities.
Major sponsors underwriting the production costs of the Polo Classic include Happy Canyon Vineyard, First Bank, Montecito Bank and Trust, The Santa Ynez Band of Chumash Indians, Uva Design Studio, Bijan & Company, Long Creek Farms, Elliott and Pohls Construction, Pacific Western Bank, Vineyard Village, Figueroa Mountain Brewing Company, Visit SYV, Aljassimya Farm, K'Syrah Farm to Table Catering, Michael Rueter Photography, and Smooth Transportation.
The Polo Classic will again feature two matches played on a smaller than regulation field to promote close-up and personal viewing for spectators. Player Coordinator Baker said that, "You won't find more exciting polo played anywhere in the U.S."
VIP, Patron, Club, and General Admission tickets as well as additional information for the 2017 Classic on Saturday June 24th are available online at www.syvpoloclassic.com or from erica@syvphp.org. This year, tickets can be purchased with bus transportation from stops within the Santa Ynez Valley, Westlake, Santa Maria, and Santa Barbara. Prices for transportation are posted on the ticketing website and vary by point of embarkation.
VIP reception begins at 10:30 AM, General Admission and Club Seating open at 11:00 AM; preliminary match begins at 11:15 AM with the feature match at 1:30 PM. Piocho Ranch is located at 1100 Secretariat Drive off of Happy Canyon Road in Santa Ynez, CA.
People Helping People is a 501 c-3 non-profit organization dedicated to improving the lives of men, women and children in the Santa Ynez Valley, Los Alamos and surrounding areas by addressing emergency and basic needs and furnishing comprehensive integrated family and individual support services. To learn more about PHP, its programs, and ways that you can help, please visit the PHP web site at www.syvphp.org or call 686-0295.