7th Annual Fundraiser Celebrates Farm & Vineyard Workers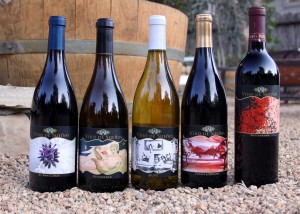 The 7th Annual Vino de Sueños (Wine of Dreams) benefit wine release celebration will be held November 1st at the Santa Ynez Valley Marriott in Buellton, CA from 3-6 PM. The public is invited to attend and celebrate the work of farm and vineyard workers. Proceeds benefit the non-profit, People Helping People (PHP).
Vino de Sueños successfully debuted in November of 2008 and was organized by a small group of local premium winemakers to specifically help farm and vineyard workers. PHP was selected as the beneficiary because of the large number of farm and vineyard workers they serve. Founding wineries were Alma Rosa, Buttonwood, Clos Pepé, Feliz Noché, Foxen, Longoria, and Presidio.
Vino de Sueños (VDS) is the brand name for People Helping People's wine series released each year at the annual event. This year, twelve of the best Santa Barbara County wineries are expected to donate wines bottled under the exclusive VDS label. These wines will be available for tasting and sale at the release celebration.
Becky Barieau, VDS event chair, said that, "we are very excited to announce our 2014 wineries to date: Alma Rosa, Buttonwood, Cold Heaven, Foxen, Longoria, Martian, Palmina, Qupé, Rideau, Riverbench, and Vogelzang."
There will be individual white and red wines for every taste and pocketbook including Chardonnay, Pinot Gris, Viognier, Syrah, Merlot, Pinot Noir, and Tempranillo. Wines are expected to sell from $12 to $40 depending upon varietal and vintage and they are specially discounted for this fundraising event. White wine and red wine 6-pack samplers and individual cases will be available for further discounted prices.
The Vino de Sueños event and sales are a fundraiser to benefit vineyard and farm workers through the auspices of People Helping People (PHP). PHP is a unique multi-program non-profit organization which helps families and individuals of limited means in the Santa Ynez and Los Alamos Valleys by providing a wide range of services including food and nutrition education, health care, youth mentoring, and alcohol and drug abuse prevention "under 1 roof."
Dean Palius, PHP CEO, stated that the agency served over 900 farm and vineyard workers and their family members last year in the Santa Ynez and Los Alamos Valleys. "All in, the services cost in excess of $250,000 and we simply could not afford to serve all of those in need without the donations of the Santa Barbara County Vintner's Foundation and local winemakers."
According to Barieau another unique aspect of the Vino de Sueños wines is that every year each winery's VDS bottle label includes a reproduction of an original art piece. "We have been extremely blessed each year to have so many artists willing to contribute to this effort. Artist Karina Puente, who originated the 'dream' icon that appears on each Vino de Sueños bottle is returning for the seventh consecutive year and will be joined by other well known local artists to create special works of art to represent each wine."
Artists scheduled to join Puente this year include Jim Farnum, Kari Crist, Christina LoCascio, Rebecca Gomez, Rene Kelleher, Zoë Nathan, Suzan Hamilton Todd, and Seyburn Zorthian. Their VDS artworks will be prominently displayed at the event and will be available to guests for purchase via a silent auction.
Art lovers can obtain a preview of the VDS artworks and meet many of the artists at a cocktail party to be held at St. Mark's Church in Los Olivos on Friday evening from 4-6 PM, September 24th. The art will adorn the walls of the chapel for the month leading up to the release celebration.
Kros Andrade, owner of UVA Design Studios and PHP Board Member, has once again volunteered for the task of translating each art piece into an eye catching label. Andrade has become well known in the Santa Barbara County Wine industry for his label designs and welcomes the challenge of working with a variety of art mediums and gifted artists to create what he calls "bottle art." Andrade said that "the artist's creations come in many shapes and sizes and my job is to create a label that does justice to the art but helps market the wine for People Helping People."
What has resulted from the marriage of the winemakers and artist's talents, Barieau says, "(I)s a series of wonderful wines with extraordinary labels that just jump off the bottle. These labels and the original works they represent are truly collectors' items."
In addition to the wine tasting, wine sale and art auction, the November 1st release event will feature a small live auction, silent auction of upscale lifestyle items, live music, and appetizer stations catered by three of the top chefs in the Santa Ynez Valley.
Tickets for Vino de Sueños are $50 each ($45 "early bird" until October 3rd), which includes a Vino de Sueños logo crystal glass. Tickets are now on sale and to make a purchase or to receive more information about the Vino de Sueños release celebration, go to the Vino de Sueños website at www.vinodesuenos.com or contact Erica at Erica@syvphp.org or at (805) 686-0295.