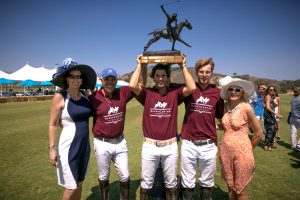 On Saturday, June 24, 2017, Happy Canyon Vineyard at Piocho Ranch in Santa Ynez, will host the 6th Annual Santa Ynez Valley Polo Classic, benefiting Santa Ynez Valley People Helping People (PHP). The event will include two matches and four teams featuring several of the highest rated players in the world as well as local Santa Ynez Valley polo celebrities.
The Barrack Family, owners of Piocho Ranch and team sponsors from previous Polo Classics have decided to host the Polo Classic for a second year. According to T.J. Barrack, the family was extremely pleased with the growth in the event in its first year at Piocho. Barrack said that, "the event was extremely well organized and attended and the polo play was first class. This event has been so much fun to play in that we are happy and proud to host and present this wonderful event again. We are thrilled to support the great efforts of People Helping People in this way and embrace the expanded opportunity to promote the sport our whole family loves."
Dean Palius, Chief Executive of PHP, said that the organization is excited to be invited to return the Polo Classic at Piocho Ranch. "This venue in Happy Canyon provides a beautiful backdrop for the matches, the space to have on-site parking, and the capability to expand our guest venues and number of attendees. We will once again be able to offer shaded and unobstructed views for our general admission guests and the moderate cost wine and beer "Club" alternatives with tented seating, lunch, libations, and a children's play area. In addition, general admission guests will again be able to access the very popular on-site food and dessert trucks as well as beer, sparkling and still wine, and soft drinks."
Joel Baker, "Play Coordinator," is once again recruiting teams and players for the event. There will be a preliminary match prior to lunch and a featured match to begin at 1:30 PM. Baker said that the feature match will present high goal professionals playing on 4-person teams on a smaller than traditional field to promote close-up and personal viewing for spectators. Last year's matches starred the very popular Nacho Figueras, the Face of Ralph Lauren's Black Label; current polo hall of famer, Memo Gracida; and members of the U.S.A. Polo Team from the World Championship, played in Santiago, Chile. "You won't find more exciting polo played anywhere in the U.S.," added Baker.
According to Nancy Hunsicker, PHP Board Member and Polo Classic Co-Chair, the success of the Polo Classic is due to the collaborative efforts of local community leaders, dedicated volunteers, and generous corporate and small business partners. Hunsicker said, "(I)t is a pleasure to work with so many passionate volunteers and community leaders to put on a family friendly world class equestrian event which supports a great organization. We hope that even more folks will attend or volunteer and that additional businesses will step up as sponsors. You don't have to be a fan of or expert in polo to enjoy the beautiful setting and the competition, speed, and horsemanship."
VIP, Patron, Club, and General Admission tickets for the 2017 version of the Classic, Saturday, June 24th, are available online at syvpoloclassic.com.
Free parking is available at the event but any of the available tickets can be purchased with bus transportation from stops within the Santa Ynez Valley, Westlake, Santa Maria, and Santa Barbara. Prices for transportation are posted on the ticketing website and vary by point of embarkation.
VIP tickets at $275 each include premium parking, a champagne and appetizer reception with live music, comfortable tented seating, catered gourmet lunch, and a hat contest. Patron levels which include VIP polo tickets and benefits, private VIP Friday evening "Meet the Players" Cocktail Party & Reception, tickets to additional PHP events, PHP service sponsorships, and polo program acknowledgement are also available. Contact Erica at erica@syvphp.org for patron pricing and availability.
In 2017, two types of Club seating are available. Members (only) of the Happy Canyon Vineyard (HCV) Wine Club may purchase Wine Club seating for $60 each for up to two tickets and $80 each for additional tickets. These tickets include free parking, tented seating, HCV wines, and BBQ lunch. Also available for purchase by the general public are tickets to the Club sponsored by Figueroa Mountain Brewing Company. Tickets are $80 and include free parking, tented seating, lunch vouchers for gourmet food trucks, beer, and wine. A silent auction will be available to both Club tent guests.
General admission tickets are only $15 each and $5 for children under 12 and include nearby parking and shaded seating close to the action. Food and beverages, including beer and wine, will be available for purchase.
Tickets, volunteer opportunities, and more information are available on-line at www.syvpoloclassic.com or by calling Erica at 686-0295. VIP reception begins at 10:30 AM, general admission and Club gates open at 11:00 AM; preliminary match begins at 11 AM, and the feature match at 1:30 PM. Piocho Ranch is located at 1100 Secretariat Drive off of Happy Canyon Road in Santa Ynez, CA.
People Helping People is a 501 c-3 non-profit organization dedicated to improving the lives of men, women and children in the Santa Ynez Valley, Los Alamos and surrounding areas by addressing emergency and basic needs and furnishing comprehensive integrated family and individual support services. To learn more about PHP, its programs, and ways that you can help, please visit the PHP web site at www.syvphp.org or call 686-0295.