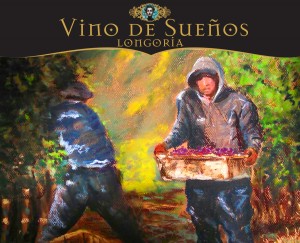 The 7th Annual Vino de Sueños (Wine of Dreams) Wine Release Celebration will be held November 1st at the Santa Ynez Valley Marriott in Buellton, CA from 3-6 PM. The public is invited to attend to celebrate the contributions of farm and vineyard workers to the County's and Valley's economies and culture. Funds from the event support services to farm and vineyard workers furnished by People Helping People.
This year, the event features 12 Santa Barbara County premium wines donated for the Vino de Sueños wine label. New this year to the list of wineries participating is Foley, Martian, and Palmina. Also, returning after a three-year absence is Cold Heaven Cellars. These wineries join veterans Alma Rosa, Buttonwood, Foxen, Longoria, Qupé, Rideau, Riverbench, and Vogelzang.
Each of the 12 wines available has a label derived from original art submitted by local professional artists including four new contributors Peggy Brierton, Gwen Cates, Teresa McNiel Maclean, and Judi Stauffer. Returning artists include Jim Farnum, Rebecca Gomez , Rene Kelleher, Karina Puente, Zoe Nathan, Susan Hamilton Todd and Seyburn Zorthian. In addition to the wine tasting, the wines and original art pieces will be available for purchase. There also will be live music by José Elizarraraz and gourmet appetizers from Budi Kazali of the Ballard Inn and the Inn Crowd, Jeff Olsson of New West Catering and Industrial Eats, and Kurt Alldredge from The Chef's Touch.
Dean Palius, PHP Chief Executive, reported that the number of wineries participating initially began with just seven. Palius refers to the original seven as "visionary." "They were willing to pursue this idea without a safety net," he said. "We had no sponsors, location, or artists, but, we all shared a passion to help those upon whose shoulders a major industry has literally been built. The founding seven winemakers are Longoria, Buttonwood, Alma Rosa, Clos Pepé, Feliz Noche, Presidio, and Foxen. Over the years, 30 wineries have participated.
In addition to winemaker support, the event, PHP, and those farm and vineyard workers who are assisted, have also attracted other supporters in the form of event underwriters.
The Santa Barbara County Vintners Foundation, Santa Ynez Band of Chumash Indians, Uva Design Studio, and TAPP Printing are all gold sponsors. At the silver level are Rabbobank, New West Catering, Ballard Inn, and Terravant Wine Company. Bronze sponsors include Coastal Vineyard Care Associates (CVCA), Santa Ynez Valley Marriott, Foxen Winery, Frey Farming, Cal Glads, Windmill Nursery, Buttonwood Farm, and Park Central Web Design.
"There is no way that we could finance an event the magnitude of Vino de Sueños and pay for all of the needed services without the help of some very generous donors," said Palius. "In addition, there are the very talented artists that have given their original works for wine labels and auction and also those who donated travel, restaurant, wine and other items for the lifestyle auction. We are very grateful to have earned this level of community support."
Tickets for Vino de Sueños are $50 each, include a 14-ounce Vino de Sueños logo glass, and are on sale now.  To buy tickets or to receive more information about the Vino de Sueños release celebration, visit the Vino de Sueños website at www.vinodesuenos.com or contact Erica at People Helping People at (805) 686-0295 x109 or at erica@syvphp.org.