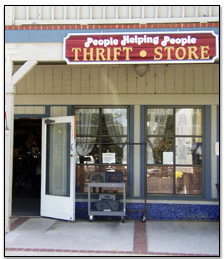 The People Helping People Thrift Store is located at:
1980 "C" Old Mission Drive
Solvang, California
805-686-9897
PHP THRIFT STORE NAMED

BEST IN VALLEY

BY "VALLEY NEWS"  FOR FIFTH STRAIGHT YEAR 
All donations are accepted on space available basis and new items are on the shelves daily. The quality of donations the store receives is extraordinary and prices are extremely competitive producing a high volume of repeat customers.
Mission – The Thrift Store is run solely to serve the non-profit charitable mission of People Helping People. All proceeds benefit People Helping People's programs and services.
Why A Store? The three most important reasons why People Helping People operates the Thrift Store are:
To raise revenue to support PHP direct services to clients
To offer low cost goods for purchase to Valley residents
To provide a source of clothing, furniture, and household goods to income qualified People Helping People clients in need
Days and Hours of Operation
The store is open seven days a week. Hours of operation are:
| | |
| --- | --- |
| Monday – Saturday: | 10:00 am to 5:00 pm |
| Sunday: | 10:00 am to 4:00 pm |
The People Helping People Thrift Store is closed on Thanksgiving, Christmas, and New Year's Day.
Donation Policy
We rely on your tax-deductible donations and are pleased to accept these items from 10:00 am to 3:00 pm daily. Since the store resells your donations, we ask that items are clean, in working order and in good condition. Unusable items must be taken to the landfill, which means additional costs for People Helping People and less revenue for assistance to those in need.
(Due to provisions of our lease agreement and city ordinances, we are not permitted to leave items outside of the store. We ask that you not leave donations when the store is not open).
Pick-Ups
People Helping People's Thrift Store will also come and get your large furniture donations. All you need to do is call the store at 805-686-9897 to arrange for an appointment for pick-up. Pick-ups should be scheduled at least five days in advance due to limited staffing.
Purchase Policy
Since the Thrift Store resells previously owned items, all items are purchased "as is."Store personnel attempt to check all items for cleanliness and that they are in good operating condition. However, purchasers should be aware of the "as is" policy, and should thoroughly check out all items.
We want you to be satisfied with your "special finds", but once items are purchased they cannot be returned except for store credit.
Contact Info
People Helping People Thrift Store
805-686-9897
thriftstore@syvphp.org