People Helping People (PHP), located in Solvang, CA in the heart of the Santa Ynez Valley, is the primary provider of human and social services in mid Santa Barbara County. PHP's service area includes Buellton, Solvang, Santa Ynez, Ballard, Los Olivos, Los Alamos, and the Gaviota Coast. Limited services are provided in the Lompoc Valley. The service area is composed of primarily rural ranches and farms, vast acreage of open range, and vineyards. The cities of Solvang and Buellton are incorporated and together include 10,000 of the estimated area population of 23,000. The area is also notable for its income disparities with more than 20% of the overall population living at or near Federal poverty levels.
Incorporated in 1992, PHP is a California 501 (c) (3) non-profit corporation. PHP is also registered with the California Registry of Charitable Trusts, registration number CT 1848585. PHP is in good standing and you may make inquiries regarding our status to the Office of the California Attorney General at www.caag.state.ca.us.
Our Vision
People Helping People has a vision that all men, women and children in our service area have the opportunity to attain self-sufficiency with dignity, are able to fulfill their potential, and live in a healthy community.
Our Mission
People Helping People is dedicated to improving the lives of men, women, and children in the Santa Ynez Valley, Los Alamos, and surrounding communities by addressing emergency and basic needs, furnishing comprehensive integrated family and individual support services, and acting as a catalyst for positive community change.
Our History
PHP was founded in 1992 by several local citizens and government officials who saw the need for a local non-profit organization to supply emergency and short-term social services. Organizers of PHP also had a larger vision for the organization. They foresaw the necessity to assist individuals and families extricate themselves from a cycle of poverty that required them to be dependent upon assistance. Therefore, founders included in PHP's mission, the directive to empower individuals and families to become self-sufficient.
PHP began its service to the Valley in 1992 from donated office space in the Veteran's Memorial Hall in Solvang. The first year's budget was $40,000. At that time, one full-time employee and a part-time receptionist staffed the organization. Programs were limited to food distribution and advocacy (assisting clients with government red tape, commercial disputes, and accessing other services). By 1994, PHP served 400 unduplicated clients. That is, clients counted one-time regardless of the number of services accessed.
Since those humble beginnings, PHP has purchased a building to house the many programs currently available to the community. There are twenty-two full and part-time employees in seven locations, 18 direct service programs, and a budget of more than 2 million dollars. In 2014-15, 3,700 unduplicated clients were served.
Future Progress
If you want to learn more about what PHP plans for the future check-out our 2014-17 Strategic Plan: Three Year Strategic Plan
Service Area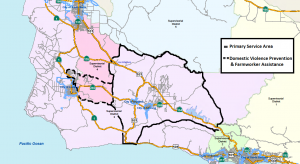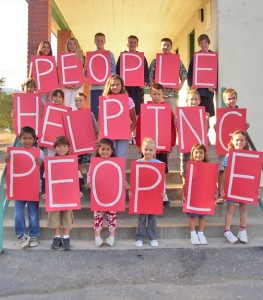 2017-2018 Annual Report