November One-Day Wine Sale Announced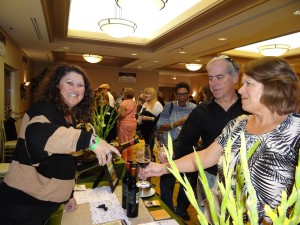 The 7th annual Vino de Sueños Wine Release Celebration on Saturday, November 1st at the Santa Ynez Valley Marriott was an unqualified success according to event organizers. Vino de Sueños is a unique fund raiser in Santa Barbara County's wine country designed to specifically celebrate the contributions of vineyard and farm workers and raise funds to help their families in times of need.
Twelve wines were released on November 1st under the Vino de Sueños brand name of the non-profit, People Helping People (PHP). Each of the twelve wines includes a unique wine label derived from an original piece of art donated to PHP. The wines, the original art work, and life style auction packages were all sold at the event to help PHP fund services provided to vineyard and farm workers and their families. According to PHP Chief Executive Officer, Dean Palius, last year PHP provided services to over 900 vineyard and farm worker family members at a cost in excess of $260,000.
Wineries participating in and donating to the event included Alma Rosa, Buttonwood, Cold Heaven, Foley, Foxen, Longoria, Martian, Palmina, Qupé, Rideau, Riverbench, and Vogelzang.
Becky Barieau, Event Committee Chair, said that more than 300 guests attended, 30 cases of wine were sold, and that $50,000 was raised. "In addition to great wines, there was a lot of buzz about the outstanding appetizers that were offered at the event by The Chef's Touch, Ballard Inn, and New West Catering," said Barieau.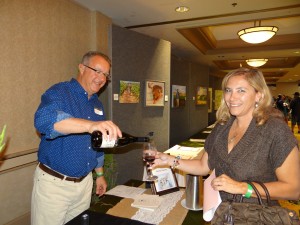 Barieau also said that many of the Vino de Sueños wines sold quickly at the event but that there is still a bit of wine remaining to be sold.   "Wine lovers and supporters of PHP and agricultural workers who were unable to attend the November 1st celebration can still purchase wines, Barieau said. Some of these wines were made strictly for this event and cannot be purchased elsewhere and all are wines are discounted below retail and tasting room prices. They would make fabulous accompaniments to holiday meals and parties and certainly would make terrific holiday gifts, all for a great cause and at a 10% discount from event prices."
PHP will offer the wines at a sales event on Thursday, November 20th.  As a non-profit, PHP can only obtain a one-day event sales license and this will be the only opportunity to buy these unique wines.
You can access the wine and price list directly from the Vino de Sueños website at www.vinodesuenos.com. You may call in your order to Tammie at 686-0295 x 107 or just print and fill out an order form and e-mail Tammie@syvphp.org or fax (686-2856) to PHP. Orders will be reserved immediately but will be filled and available on November 21st and held for pick-up at the PHP offices at 545 N, Alisal in Solvang. PHP will even deliver to your location in the Santa Ynez Valley on orders of $200 or more.
PHP's Palius stated that the Board and staff of the agency are very grateful to the community for its support of the Vino de Sueños Release and local farm and vineyard workers. "With the assistance of our sponsors, the Santa Barbara County Vintners' Foundation, the Santa Ynez Band of Chumash Indians, Rabobank, Uva Design Studio, New West Catering, The Chef's Touch, Ballard Inn, Decadence, TAPP Printing, the Santa Ynez Valley Marriott, Terravant, Coastal Vineyard Care Associates (CVCA), Foxen Vineyard, Cal Glads, and Park Central Web Design we were able to conduct a financially successful event. And, of course, the event would not be possible without the critical donations of our artists, winemakers, and auction donors."
For more information about PHP, its service area, and programs visit their website at www.syvphp.org or call 686-0295.